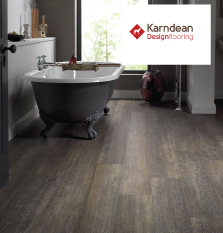 Looking for a full and extensive range of Karndean Design Flooring products. Then, Stones Carpets & Flooring showroom in Leigh is well worth a visit. Our Karndean showroom showcases luxury Karndean floors which are practical and family-friendly.
Choose Karndean Design Flooring that is beautiful to look at and because there's such an impressive range of designs and finishes. Therefore, when you invest in a Karndean floor; you can be pretty sure it going to be unique to your home.
Karndean Flooring UK the luxury specialists
Karndean UK started life as a small family business in 1973 and has certainly come a very long way. Karndean flooring UK is now one of the world's most renowned and respected luxury laminate flooring companies. And, Stone Carpets has been a registered Karndean retailer for many, many years.
That's why we're always eager to share what we know about Karndean flooring ranges. Specifically, how Karndean Flooring is famous for its development of innovative flooring products with the look of beautiful, natural flooring. Its certainly up there as one of the best versatile, luxury, vinyl flooring on the market. And in addition, you may see a significant saving on other brands.
Karndean Design Flooring – Beautiful & designed to Last
A great thing to know when choosing Karndean flooring is its guarantee. It's a guarantee that will give you peace of mind and will protect your investment in the unlikely event of a material manufacturing defect. What's more, Karndean Design Floorings purchase guarantee is transferable. So, if you sell your home the guarantee can be transferred to the buyer.
We cover a 45-mile radius around our Leigh Showroom.
Contact your local Karndean specialist that provides professional advice on choice and installation.
You can get design ideas & free estimates for flooring installations in Leigh, Wigan, Warrington, St Helens, Cheshire, and surrounding areas.
Karndean Flooring | Free Fitting Estimates | Leigh | Wigan | Warrington | St Helens