British Wool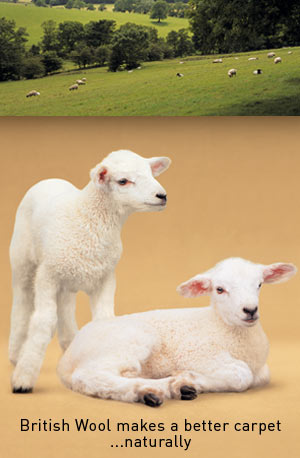 Thanks to it's unique environment Britain produces some of the best carpet wool in the world. The harsh conditions survived by Britain's sheep make it an ideal carpet wool to withstand the rigours of day to day living.
It has more resilience than most other carpet wools because of the high degree of 'natural crimp' in the fibre, which helps it withstand heavy pressure and footfall, maintaining the appearance of the carpet over longer periods.
British Wool is a truly 'Green' fibre – grown every year by sheep throughout fields and moorlands in the UK – it is an annually renewable natural resource, without harm to the planet.
It has natural insulating properties, which reduce heat loss, condensation and reduce noise, providing improved air quality and a comfortable home environment.
It is naturally flame resistant and produces less toxic fumes than most other household materials, making it a safer product in areas of public usage and throughout the home.
Carpet using British Wool is easily maintained, has an inbuilt resistance to soiling due to it's natural oils and responds well to cleaning.
Town & Country
Natural Berber Twist
Home Countries Heathers