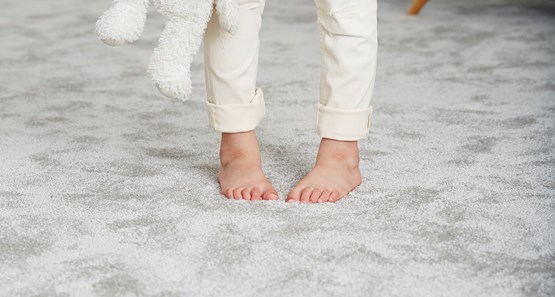 As we close in on the festive period, most of us are set to give and receive lots of beautiful gifts on Christmas day. But the time for a new carpet may also be approaching. Especially when all the excitement is over, our floors can start to look a little on the tired side.
The average carpet is thought to last around 10 years, give, or take. So, with some careful consideration and by obtaining a bit of knowledge, you can pick out a new carpet that could essentially be part of your home for as long as a decade.
Buy long-lasting carpets
The mediums used to make carpets are endless, but for some people getting a fancy new carpet isn't as important as opting for something that has a long life span.
Nylon carpet fibres can be seen as one of the top runners when it comes to durability and is moderately priced. Often used in both residential and commercial settings, nylon carpets don't hold onto allergens as much as other types of carpets and are strongly resistant to insects, mould, mildew, rot, stains, and abrasions.
Typically, these types of carpets hold their ground in a way that they maintain height and colour well despite having a lot of foot traffic.
On the other hand, wool carpets, though they generally cost a little more than a synthetic option, can also be a good choice if you're looking for longevity when buying your new carpet. they're very hard-wearing and hold and keep their colour well but also have a more natural feel beneath your feet.
Just like its competitor nylon, wool resists foot traffic and hold its ground well, giving you that new carpet looks for longer.
Picking a new carpet when you have furry friends
So many of us who are cat or dog owners in the UK may have already experienced the dismay of our lovable little creatures ruining the carpet you spent your money on. Or maybe you're planning to bring a pet into your household and need to start thinking if you might need to change up the flooring due to their arrival.
You don't need to give up having a lovely warm carpet for a hard floor, you might just want to have a look at what options are better suited for both you and your four-legged companion
Some notable mentions may be to look at polyester, nylon, Berber, and frieze carpets as they're highly stain proof and will be more resistant to claw marks. However, polypropylene is usually the go-to medium used by pet owners due to having built-in resistance to dirt, dust, and spills.
Another choice we may choose to make when we're looking for a new carpet but are likely to have little paws running around on it and not just the usual human foot traffic, we expect is to go darker in colour. Darker coloured or patterned carpets are much more forgiving when it comes to stains and damage.
Cosy carpets that can save you money
For most of the year in the UK, it can be very chilly, to say the least. And with rough weather outside, it's inside our homes we spend a lot of our time warming up.
With central heating costs averaging at around £1,138 a year and insulation costing in the thousands, investing in a new carpet that will help keep your home warm is a smart move.
It's estimated 10% of a room's heat can be lost through the floor. Some carpets do a great job of holding heat and making a room feel warmer. Depending on the thickness of the carpet pile, the colour and the material, a new carpet could aid you in your efforts to make your house warm.
Carpet colour & fibre options
Opting for a thicker carpet will lead to less heat being lost through the floor compared with hard flooring. You may also want to factor in the colour of the carpet as darker choices will absorb more sunlight!
You may also wish to think about having a wool carpet installed as it is one of the best flooring options to keep your home warm. It is an effective material with thick fibres and works great at reducing heat loss.
So, when it's time to start thinking about a new carpet, it might be worth taking into consideration the trials and tribulations it's going to face over the years. Whether you plan to make it last as long as possible or simply need it to fit a purpose, choosing the right carpet for your home is always important.
Get In Touch With Stones Carpets & Flooring
Where good quality & service never go out of fashion