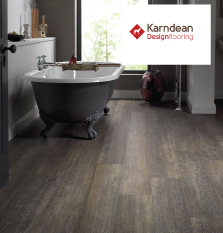 The Karndean range floor has been a favourite of many households for a while now. So, this is a result of an array of reasons, the most obvious being the great look it adds to their homes. Also, in the Karndean range there are lots of design options, letting you have a good choice! For example, if you have a grey theme in a room there are some great dark colours of Karndean; that will work perfectly with that colour scheme.
In addition, there are many positives that come from installing Karndean flooring into your home. Such as, the clear benefit of the beautiful look that the home will endure. Furthermore, Karndean flooring is very easy to maintain, making this ideal for busy people. The longevity of the floor is unmatched by other types of floor like carpet, as it lasts for at least 30 whole years!
Advantages of the Karndean Range
So, Karndean flooring is very low maintenance and requires no staining or sanding! Therefore, all you have to do is simply sweep and mop for flooring that looks as good as new.
Long-lasting flooring option
Karndean flooring maintains its shape and size from installation till the day it's removed! Unlike, wooden flooring which is prone to warping and shrinkage if it gets wet for example. So, this makes Karndean a great choice throughout the home, particularly for a family environment.
Lastly, Stones Carpets have noticed that Karndean flooring is naturally warmer underfoot than other types of hard flooring! Also, Karndean is always open to the option of underfloor heating if efficiency is a concern of yours.
Overall, if you like the idea of Karndean flooring for your home, choose Stones Carpets. We have a selection of colours and designs that we know you will love! So, contact us or see us in-store when you can.